• birthday • cards • engagement • greeting cards • love • paper • scored cards • thank you • valentines day • wedding
I'm here to open the gates and set you free from this dizzying existential burden.   Let's line up the usual suspects: Birthday, Valentine's Day, Christmas, Engagement, Wedding. Thank You. All are worthy candidates. But how did it all begin? Before diving into this deep pool of inquiry, rest assured that our greeting cards here at Pulp will cover you for every season, reason, person, and animal.  Now, relax and reflect on two ancient civilisations: China and Egypt. The Chinese wanted to send goodwill to their family and friends on the arrival of the Lunar New Year. Legend has it...
---
• A4 • art • art paper • artisan paper • beige • blockprinting • colour • colours • cool • crafting • daphne • gift • gift wrap • green • grey • himalayan • himalayan paper • indigo • light blue • lokta • lokta paper • marine • natural • origami • paper • pavers print • plant paper • plants • polka dot • red • sage • seed pattern • white • wrapping • wrapping paper • yellow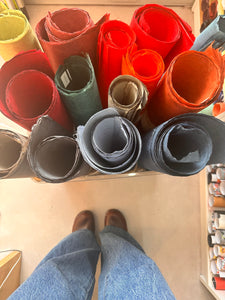 The Daphne, or 'Lokta' Shrub Gives Good Paper. And We Like it—A'Lokta (See What I Did There!?) That's right; the Nepalese paper plant does what it says on the box and more. This humble bush grows quickly and efficiently throughout Bhutan, Bangladesh, Myanmar, Vietnam and even into Sichuan (Chilli anyone?) and North-West Yunan. It traditionally provided fodder for a plethora of aesthetically pleasing and valuable products, including prayer books and official documents.  (Side note. The religious theme in stationary history runs strong!  See last week's blog for proof. Hint: Who'da'thunk priests would need posters?)   Let's not get distracted. The long...
---
• A4 • A5 • A6 • A7 • art paper • cotton • cotton paper • cotton rag • khadi • painting • paper • rag • rag paper • recycled
Let's play a game of True or False about cotton! It's stronger when wet …  There are over 50 different species of the cotton plant Cotton plants produce fruit!  You can't eat it (but horses can … Yum,  I guess … for them). Cotton was the first plant to be grown on the moon. Now for the reveal. Drumroll, please … Yes, they are all true. Also, and most fittingly for us here at Pulp, cotton was one of the first materials to make paper. A strong but soft material, which most of us associate with getting dressed in the...
---
• gift • midori • notebook • notebooks • notes • pad • paper • stationary • writing
It's clean and fresh. It smells earthy. It's smooth and perfect.  But a used notebook - a notebook you want to use - is another form of rich beauty. It holds promise. It invites you to share your ideas as paragraphs, dot points, illustrations, stickers, doodles, and saved notes from memorable experiences.  Shopping lists, manifestations, recipes, job contacts, lecture notes. Maybe a phone number scrawled from an admirer. Dog-eared pages, creases, coffee stains, warping and smudged ink infuse the notebook with your personality, memory and story: which is the point, right?  With a beautifully unique approach to design, the Midori...