• baggu • bags • jute • tote • tote bag • totes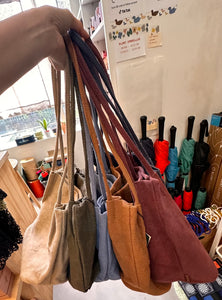 Is There Is Such A Thing as a Superior Tote Bag? You Bet There Is.    What is simultaneously the hero of sustainable shopping and an ever-growing mountain of fabric from which we must be immediately rescued? If you're thinking, 'Duh, Tote Bags', then bingo! Ladies and Gentlemen, we have a winner! But let's not get too bogged down by the status quo. The picture isn't as bleak as it seems. It's really all about choosing the right tote bag. And if you need help settling on one, you've come to the right place. Let's break down the needs so...
---
• art • arthouse • bath • bath towel • beach • beach house • colour • colours • cotton • cotton gauze • cotton pile • face towel • hand towel • inner pile • inner pile towel • Mayde • NUNU • Shinto • soft • Summer • swim • tote • towels • Winter
Don't even think about anything else right now. Instead, imagine a full day of sightseeing in Nippon: bowing sagely and feeding crackers to the Nara deers, sampling freshly-caught Japanese mackerel from a world-class sashimi chef, perhaps first-class seats on the bullet train with uninterrupted views of Mt Fuji. Then you end the day with a relaxing private onsen. You step out refreshed and with complete and total ease. Satisfied. The experience is only heightened by wrapping yourself in the softest, most luxurious inner pile towel you have ever known. And in case you can't quite viscerally picture it in your...