• ink • midori • notebooks • stamps • stickers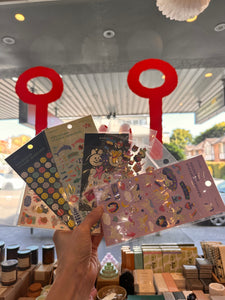 Good Tidings, Besties. Welcome to the next instalment of 'Behind the Stationary' with Pulp. In today's Blogisode, we look into an everyday, often overseen object: the sticker.  Hold on to your hats, kind folk; this narrative starts with the Ancient Egyptians. Again. The Powers That Be believe that the first stickers may date back to Ye Olde Egypt, as archaeologists have found remains of papers plastered to walls of ancient markets to display prices of goods. Mummified price tags - what next?  Well, ink stamps, that's what. They were used in the United Kingdom from 1661. It was invented by...
---
• gift • midori • notebook • notebooks • notes • pad • paper • stationary • writing
It's clean and fresh. It smells earthy. It's smooth and perfect.  But a used notebook - a notebook you want to use - is another form of rich beauty. It holds promise. It invites you to share your ideas as paragraphs, dot points, illustrations, stickers, doodles, and saved notes from memorable experiences.  Shopping lists, manifestations, recipes, job contacts, lecture notes. Maybe a phone number scrawled from an admirer. Dog-eared pages, creases, coffee stains, warping and smudged ink infuse the notebook with your personality, memory and story: which is the point, right?  With a beautifully unique approach to design, the Midori...