• diary • notebook • notebooks • notes • travel • travel diary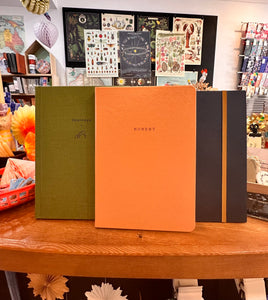 Like the ever-trending mullet, we'll begin this week's blog with business at the front, and then we can party at the back end, OK? Let's go! For all your notebook needs when travelling over the holidays to see your family (or *awkward cough* get away from them), this longer-than-usual list will do you no wrong. No need to choose wisely - just choose- because every option here is exceptional:  Season Paper Small Notebooks and Journals Karst Pocket Journal Karst Twin Pack Journal A5 / Plain + Ruled - one for you, one for your friend.  Blank Brown Paper Journal Large...
---
• 2024 • A4 • A5 • diaries • diary • notebook • notebooks • notes
Pulp Has Pleasing And Beautiful 2024 Diaries You'll Actually Want to Use (please note the use of italics for emphasis.) Chums, I know it's relatively early to be yapping on about 2024 diaries, but time moves in mysterious ways. It can slither at a snail's pace across prosaic routines and travel down the highway of everyday life like a speed demon. Who knows what mood it'll be in when it wakes up?' So, while we're sitting pretty here on Friday the 13th, you can bet your bottom dollar that while you're avoiding black cats and prepping Halloween lolly bags, it'll...