• A4 • art • art paper • artisan paper • beige • blockprinting • colour • colours • cool • crafting • daphne • gift • gift wrap • green • grey • himalayan • himalayan paper • indigo • light blue • lokta • lokta paper • marine • natural • origami • paper • pavers print • plant paper • plants • polka dot • red • sage • seed pattern • white • wrapping • wrapping paper • yellow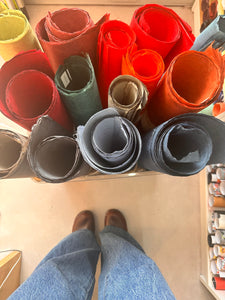 The Daphne, or 'Lokta' Shrub Gives Good Paper. And We Like it—A'Lokta (See What I Did There!?) That's right; the Nepalese paper plant does what it says on the box and more. This humble bush grows quickly and efficiently throughout Bhutan, Bangladesh, Myanmar, Vietnam and even into Sichuan (Chilli anyone?) and North-West Yunan. It traditionally provided fodder for a plethora of aesthetically pleasing and valuable products, including prayer books and official documents.  (Side note. The religious theme in stationary history runs strong!  See last week's blog for proof. Hint: Who'da'thunk priests would need posters?)   Let's not get distracted. The long...
---
• baggu • bags • cool • cooler bag • lunch bag • post-consumer waste • socks • sustainability • tote bag • travel set • wallet • wallets • zip set
In 2007, Emily Sugihara and her mama, Joan, founded Baggu in San Francisco. The Mother-Daughter duo wanted basic, fashionable, reusable bags to tote their everyday objects. At that time, the world hadn't yet realised the full catastrophic scale of environmental dire that the planet was facing, and there wasn't anything fashionable and on the market: so they created Baggu.  Let's rifle back through the archives … In 1965 the plastic shopping bag was invented by a Swedish company. The slogan was "The Sack of the Future is Here Today." Deadpan face emoji. No joke. By 1979, eighty percent of the...