• artisan paper • gift wrap • jute • lokta • lokta paper • mulberry paper • ribbon • string • wrapping • wrapping paper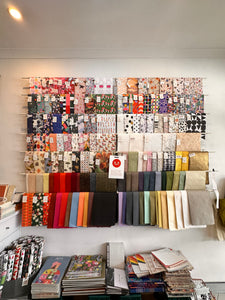 Pulp's Destiny: To provide dignity to those unadorned gifts with a range of beautiful, festive, colourful wrapping paper, ribbon and gift bags. You know that feeling when you have procured all the gifts you need for all your important people, and then the time comes to wrap them? You go to the hall cupboard, where you know everything is. But you open it, and- devastation!- nothing! You were sure you bought a whole bunch of wrapping paper eleven months ago- rolls of it. Where in St Nicholas's name has it all gone?! Umm, how do we say this in a...
---
• art • art paper • artisan paper • bags • bath • bath crayons • bath drops • bees wax • candles • craft • crafting • crayons • dinosaurs • gift wrap • lantern • lokta • lokta paper • paints • paper bags • parties • party • rice wax • sealing wax • sealing wax sticks • soy • soy wax • styling • translucency • translucent • watercolour paints • wax • waxed paper • wrapping • wrapping paper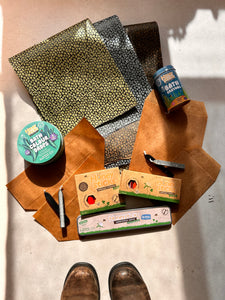 Forgive my 80's movie nostalgia, but this is important!  For those paying attention, we talked about Lokta Paper last week. A surprise bonus is that it also comes in a waxed version. Waxed 'Pavers' Lokta is a lovely stone pavers print that comes in blue, green and brown. There is also (non-Lokta)  lotus red and striped waxed paper for more pattern options. And if paper bags are something you need right now, we have turtleback, flat and carry waxed bags. Noice.  OK, listicle time. Waxed paper is ideal for: Wrapping (gifts and homemade confectionary alike) Screening in art projects...
---
• A4 • art • art paper • artisan paper • beige • blockprinting • colour • colours • cool • crafting • daphne • gift • gift wrap • green • grey • himalayan • himalayan paper • indigo • light blue • lokta • lokta paper • marine • natural • origami • paper • pavers print • plant paper • plants • polka dot • red • sage • seed pattern • white • wrapping • wrapping paper • yellow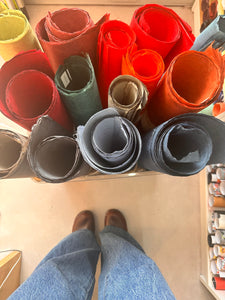 The Daphne, or 'Lokta' Shrub Gives Good Paper. And We Like it—A'Lokta (See What I Did There!?) That's right; the Nepalese paper plant does what it says on the box and more. This humble bush grows quickly and efficiently throughout Bhutan, Bangladesh, Myanmar, Vietnam and even into Sichuan (Chilli anyone?) and North-West Yunan. It traditionally provided fodder for a plethora of aesthetically pleasing and valuable products, including prayer books and official documents.  (Side note. The religious theme in stationary history runs strong!  See last week's blog for proof. Hint: Who'da'thunk priests would need posters?)   Let's not get distracted. The long...