• A4 • art • art paper • artisan paper • beige • blockprinting • colour • colours • cool • crafting • daphne • gift • gift wrap • green • grey • himalayan • himalayan paper • indigo • light blue • lokta • lokta paper • marine • natural • origami • paper • pavers print • plant paper • plants • polka dot • red • sage • seed pattern • white • wrapping • wrapping paper • yellow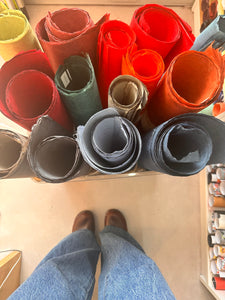 The Daphne, or 'Lokta' Shrub Gives Good Paper. And We Like it—A'Lokta (See What I Did There!?) That's right; the Nepalese paper plant does what it says on the box and more. This humble bush grows quickly and efficiently throughout Bhutan, Bangladesh, Myanmar, Vietnam and even into Sichuan (Chilli anyone?) and North-West Yunan. It traditionally provided fodder for a plethora of aesthetically pleasing and valuable products, including prayer books and official documents.  (Side note. The religious theme in stationary history runs strong!  See last week's blog for proof. Hint: Who'da'thunk priests would need posters?)   Let's not get distracted. The long...
---
• blue • jute • mulberry paper • organza • red • ribbon • ric rac • stripes • twine • washi • wrapping • wrapping paper
Try Googling "Pulp Creative Ribbon", and you'll be halfway to expressing your feelings and emotions through movement. There are 104 results if you choose to take part in this little experiment. That's 104 options for colour, pattern, thickness and texture. That's a lot of costume options for the amateur performance at the end of the term. If this isn't relatable, of course, ribbon (and twine) can be used for many other purposes:  Fancy bookmarks for all your fancy books Holding your jeans up so that they don't fall down (i.e., a belt) Making a fabulous skirt  (search that up, it's...