• baggu • bags • jute • tote • tote bag • totes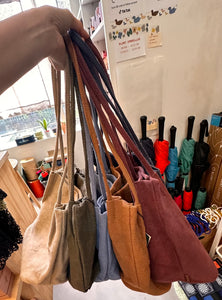 Is There Is Such A Thing as a Superior Tote Bag? You Bet There Is.    What is simultaneously the hero of sustainable shopping and an ever-growing mountain of fabric from which we must be immediately rescued? If you're thinking, 'Duh, Tote Bags', then bingo! Ladies and Gentlemen, we have a winner! But let's not get too bogged down by the status quo. The picture isn't as bleak as it seems. It's really all about choosing the right tote bag. And if you need help settling on one, you've come to the right place. Let's break down the needs so...
---
• baggu • bags • cool • cooler bag • lunch bag • post-consumer waste • socks • sustainability • tote bag • travel set • wallet • wallets • zip set
In 2007, Emily Sugihara and her mama, Joan, founded Baggu in San Francisco. The Mother-Daughter duo wanted basic, fashionable, reusable bags to tote their everyday objects. At that time, the world hadn't yet realised the full catastrophic scale of environmental dire that the planet was facing, and there wasn't anything fashionable and on the market: so they created Baggu.  Let's rifle back through the archives … In 1965 the plastic shopping bag was invented by a Swedish company. The slogan was "The Sack of the Future is Here Today." Deadpan face emoji. No joke. By 1979, eighty percent of the...