• candles • chopsticks • coffee cup • coffee cups • fish flask • games • Gentlemen's Hardware • gift • incense holder • Kris Kringle • Robert Gordon • Secret Santa • sudoku • word search
T'was the night before Christmas, and all through the house, not a creature was stirring, not even your lovely co-workers, your parents, siblings or spouse, or that new group of friends from the gym that you just met three weeks ago … Big Yikes Pulp Fam! Gift-giving szn is upon us, but no drama. We have the goods to help you through it.  There are two versions of Secret Santa. The first is the Origin Story of the practice of 'Secret Santa' AKA Kris Kringle. And it is a chronicle of kindness. In the 1970s, an American philanthropist called Larry Dean...
---
• A4 • art • art paper • artisan paper • beige • blockprinting • colour • colours • cool • crafting • daphne • gift • gift wrap • green • grey • himalayan • himalayan paper • indigo • light blue • lokta • lokta paper • marine • natural • origami • paper • pavers print • plant paper • plants • polka dot • red • sage • seed pattern • white • wrapping • wrapping paper • yellow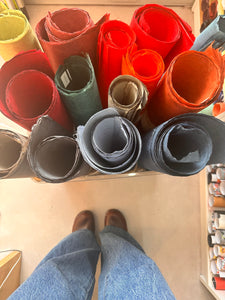 The Daphne, or 'Lokta' Shrub Gives Good Paper. And We Like it—A'Lokta (See What I Did There!?) That's right; the Nepalese paper plant does what it says on the box and more. This humble bush grows quickly and efficiently throughout Bhutan, Bangladesh, Myanmar, Vietnam and even into Sichuan (Chilli anyone?) and North-West Yunan. It traditionally provided fodder for a plethora of aesthetically pleasing and valuable products, including prayer books and official documents.  (Side note. The religious theme in stationary history runs strong!  See last week's blog for proof. Hint: Who'da'thunk priests would need posters?)   Let's not get distracted. The long...
---
• gift • midori • notebook • notebooks • notes • pad • paper • stationary • writing
It's clean and fresh. It smells earthy. It's smooth and perfect.  But a used notebook - a notebook you want to use - is another form of rich beauty. It holds promise. It invites you to share your ideas as paragraphs, dot points, illustrations, stickers, doodles, and saved notes from memorable experiences.  Shopping lists, manifestations, recipes, job contacts, lecture notes. Maybe a phone number scrawled from an admirer. Dog-eared pages, creases, coffee stains, warping and smudged ink infuse the notebook with your personality, memory and story: which is the point, right?  With a beautifully unique approach to design, the Midori...