• art • art paper • artisan paper • bags • bath • bath crayons • bath drops • bees wax • candles • craft • crafting • crayons • dinosaurs • gift wrap • lantern • lokta • lokta paper • paints • paper bags • parties • party • rice wax • sealing wax • sealing wax sticks • soy • soy wax • styling • translucency • translucent • watercolour paints • wax • waxed paper • wrapping • wrapping paper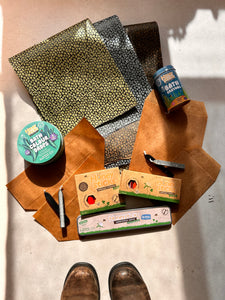 Forgive my 80's movie nostalgia, but this is important!  For those paying attention, we talked about Lokta Paper last week. A surprise bonus is that it also comes in a waxed version. Waxed 'Pavers' Lokta is a lovely stone pavers print that comes in blue, green and brown. There is also (non-Lokta)  lotus red and striped waxed paper for more pattern options. And if paper bags are something you need right now, we have turtleback, flat and carry waxed bags. Noice.  OK, listicle time. Waxed paper is ideal for: Wrapping (gifts and homemade confectionary alike) Screening in art projects...
---
• A4 • art • art paper • artisan paper • beige • blockprinting • colour • colours • cool • crafting • daphne • gift • gift wrap • green • grey • himalayan • himalayan paper • indigo • light blue • lokta • lokta paper • marine • natural • origami • paper • pavers print • plant paper • plants • polka dot • red • sage • seed pattern • white • wrapping • wrapping paper • yellow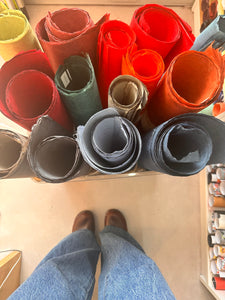 The Daphne, or 'Lokta' Shrub Gives Good Paper. And We Like it—A'Lokta (See What I Did There!?) That's right; the Nepalese paper plant does what it says on the box and more. This humble bush grows quickly and efficiently throughout Bhutan, Bangladesh, Myanmar, Vietnam and even into Sichuan (Chilli anyone?) and North-West Yunan. It traditionally provided fodder for a plethora of aesthetically pleasing and valuable products, including prayer books and official documents.  (Side note. The religious theme in stationary history runs strong!  See last week's blog for proof. Hint: Who'da'thunk priests would need posters?)   Let's not get distracted. The long...
---
• art • blockprinting • Cavallini & Co • cosmos • educational • floral • flowers • garden • hummingbirds • jellyfish • map • map of Australia • moon • posters • sunflower • sunflowers • woodblock • woodblock print
But not just any Posters. Cool, Beautiful, Inspiring, Ethereal, Educational Posters. From us, here at Pulp, of course.  If we're going to tell a 'How it Started and How it's Going' story, we should start at the beginning. The year 1477 to be exact. Public woodblock prints were publicly 'posted' (ahem, hence the name) on walls in England to advertise a handbook for priests. Got to give it to them. They knew their market.  Anyway, a few hundred years later, in 1866, a French guy called Jules Chéret created the first colour lithographs. The V&A museum in London explains it...
---
• art • arthouse • bath • bath towel • beach • beach house • colour • colours • cotton • cotton gauze • cotton pile • face towel • hand towel • inner pile • inner pile towel • Mayde • NUNU • Shinto • soft • Summer • swim • tote • towels • Winter
Don't even think about anything else right now. Instead, imagine a full day of sightseeing in Nippon: bowing sagely and feeding crackers to the Nara deers, sampling freshly-caught Japanese mackerel from a world-class sashimi chef, perhaps first-class seats on the bullet train with uninterrupted views of Mt Fuji. Then you end the day with a relaxing private onsen. You step out refreshed and with complete and total ease. Satisfied. The experience is only heightened by wrapping yourself in the softest, most luxurious inner pile towel you have ever known. And in case you can't quite viscerally picture it in your...