• art • blockprinting • Cavallini & Co • cosmos • educational • floral • flowers • garden • hummingbirds • jellyfish • map • map of Australia • moon • posters • sunflower • sunflowers • woodblock • woodblock print
But not just any Posters. Cool, Beautiful, Inspiring, Ethereal, Educational Posters. From us, here at Pulp, of course.  If we're going to tell a 'How it Started and How it's Going' story, we should start at the beginning. The year 1477 to be exact. Public woodblock prints were publicly 'posted' (ahem, hence the name) on walls in England to advertise a handbook for priests. Got to give it to them. They knew their market.  Anyway, a few hundred years later, in 1866, a French guy called Jules Chéret created the first colour lithographs. The V&A museum in London explains it...
---
• animals • cosmos • education • educational • full moon • holidays • jigsaw • jigsaw puzzles • Journey of Something • moon • ocean • party animal • puzzles • school holidays • space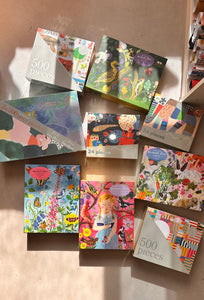 Who was he? How did he do it? Why did he do it? OK, everyone, stop tweeting and cool down. Let me 'Spilsbury' the beans … (lol) Answers are coming in hot.  Mr Spilsbury was a British cartographer and engraver. He was assistant to the official geographer of King George III in the 1700s. One day he cut up one of his wood-mounted maps into the Kingdoms of Europe. He thought it would be a good way to help school kids remember their geography. It became a little more than a fun lesson. The concept was clearly monetisable, and Johnno...