• baggu • bags • jute • tote • tote bag • totes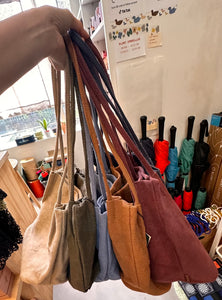 Is There Is Such A Thing as a Superior Tote Bag? You Bet There Is.    What is simultaneously the hero of sustainable shopping and an ever-growing mountain of fabric from which we must be immediately rescued? If you're thinking, 'Duh, Tote Bags', then bingo! Ladies and Gentlemen, we have a winner! But let's not get too bogged down by the status quo. The picture isn't as bleak as it seems. It's really all about choosing the right tote bag. And if you need help settling on one, you've come to the right place. Let's break down the needs so...
---
• bags • brush pen • brush pens • bucket bag • Carry • hightide • nahe • notebook • notebooks • notes • packing cell • packing cells • packing cube • pencil cases • penco • pens • tarp bag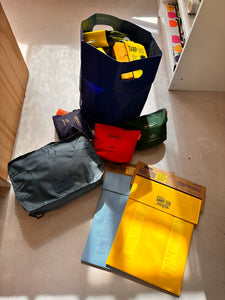 There  is generally a stigma attached to office work. Tedious, spiritually painful, long hours, and sometimes a long commute to a place you don't even want to be. The 90s cult movie 'Office Space' encapsulates this malaise perfectly -and with humour - which is probably the only way to look at the absurdity of some office jobs.   Penco turns this idea of boring office supplies on its head and even makes you  - well, me anyway - want to get down and do some serious admin. The products really are that beautiful. Their remit is "casual office supplies", an...
---
• art • art paper • artisan paper • bags • bath • bath crayons • bath drops • bees wax • candles • craft • crafting • crayons • dinosaurs • gift wrap • lantern • lokta • lokta paper • paints • paper bags • parties • party • rice wax • sealing wax • sealing wax sticks • soy • soy wax • styling • translucency • translucent • watercolour paints • wax • waxed paper • wrapping • wrapping paper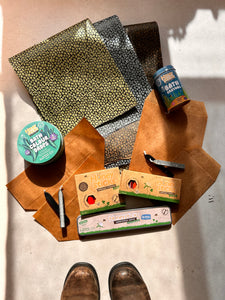 Forgive my 80's movie nostalgia, but this is important!  For those paying attention, we talked about Lokta Paper last week. A surprise bonus is that it also comes in a waxed version. Waxed 'Pavers' Lokta is a lovely stone pavers print that comes in blue, green and brown. There is also (non-Lokta)  lotus red and striped waxed paper for more pattern options. And if paper bags are something you need right now, we have turtleback, flat and carry waxed bags. Noice.  OK, listicle time. Waxed paper is ideal for: Wrapping (gifts and homemade confectionary alike) Screening in art projects...
---
• baggu • bags • cool • cooler bag • lunch bag • post-consumer waste • socks • sustainability • tote bag • travel set • wallet • wallets • zip set
In 2007, Emily Sugihara and her mama, Joan, founded Baggu in San Francisco. The Mother-Daughter duo wanted basic, fashionable, reusable bags to tote their everyday objects. At that time, the world hadn't yet realised the full catastrophic scale of environmental dire that the planet was facing, and there wasn't anything fashionable and on the market: so they created Baggu.  Let's rifle back through the archives … In 1965 the plastic shopping bag was invented by a Swedish company. The slogan was "The Sack of the Future is Here Today." Deadpan face emoji. No joke. By 1979, eighty percent of the...