• colour • colours • cups • drinkware • espresso cups • Robert Gordon
Yeah, you read me right: Zazz. With three Z's. Is it even an Oxford English Dictionary-sanctioned word? Who knows!? Not me, but it just about does a full vibe check for these colourful cups we have for you here at Pulp. Think of them as 'drip' (aka cool fashion) for your kitchen. If you don't know what I mean, GYAT !! (ahem, get your act together). Apologies for the overwhelming Gen Z lexicon; I was having a moment. The earliest known drinking vessels date back to the Upper Paleolithic age (50,000 years ago), known for  the emergence of more sophisticated...
---
• A4 • art • art paper • artisan paper • beige • blockprinting • colour • colours • cool • crafting • daphne • gift • gift wrap • green • grey • himalayan • himalayan paper • indigo • light blue • lokta • lokta paper • marine • natural • origami • paper • pavers print • plant paper • plants • polka dot • red • sage • seed pattern • white • wrapping • wrapping paper • yellow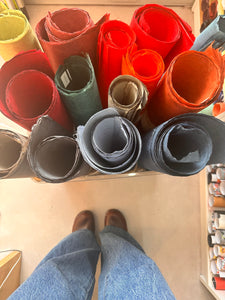 The Daphne, or 'Lokta' Shrub Gives Good Paper. And We Like it—A'Lokta (See What I Did There!?) That's right; the Nepalese paper plant does what it says on the box and more. This humble bush grows quickly and efficiently throughout Bhutan, Bangladesh, Myanmar, Vietnam and even into Sichuan (Chilli anyone?) and North-West Yunan. It traditionally provided fodder for a plethora of aesthetically pleasing and valuable products, including prayer books and official documents.  (Side note. The religious theme in stationary history runs strong!  See last week's blog for proof. Hint: Who'da'thunk priests would need posters?)   Let's not get distracted. The long...
---
• art • arthouse • bath • bath towel • beach • beach house • colour • colours • cotton • cotton gauze • cotton pile • face towel • hand towel • inner pile • inner pile towel • Mayde • NUNU • Shinto • soft • Summer • swim • tote • towels • Winter
Don't even think about anything else right now. Instead, imagine a full day of sightseeing in Nippon: bowing sagely and feeding crackers to the Nara deers, sampling freshly-caught Japanese mackerel from a world-class sashimi chef, perhaps first-class seats on the bullet train with uninterrupted views of Mt Fuji. Then you end the day with a relaxing private onsen. You step out refreshed and with complete and total ease. Satisfied. The experience is only heightened by wrapping yourself in the softest, most luxurious inner pile towel you have ever known. And in case you can't quite viscerally picture it in your...
---
• candles • cards • coffee cups • colour • colours • cups • Daycraft • espresso • espresso cups • mother's day • notebook • notebooks • notes • scored cards • tea • teacup
Ever heard of Anna Jarvis? She is basically the mother of Mother's Day. An activist who cared for soldiers in the aftermath of the American civil war, she organised women's groups to promote friendship and health. In 1870, alongside another peace promoter and suffragette, Julia Ward Howe, Jarvis lobbied for a "Mother's Day For Peace" where mothers would ask that their husbands and sons were no longer killed in wars. It called upon mothers of all nationalities to unite to promote the "amicable settlement of international questions, the great and general interests of peace". Forty years later, in 1907, 'Mother's...