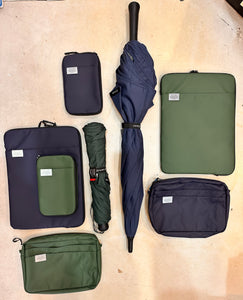 Whitewater Rafting, SUP, Torrential Downpours, Excessive Happy Crying and Hot Yoga Sweat. Just A Few Things That Require Further Inquiry Into The Well-Designed World of Water-Repellent Bags. Friday Greetings, Pumpkinheads. While everyone around us is frantically gathering Halloween decorations, touching up their zombie makeup and honing their focus on lollies (both giving and receiving), we here on Sydney Road are thinking about more practical matters. Namely, staying dry when you're surrounded by water. Rain, Ocean, Harbour. Lake. What can we say? You ponder it when you live on a Peninsular. Lucky for you, we have a range of water-repellent carrying...
---
• baggu • bags • jute • tote • tote bag • totes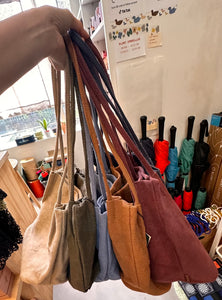 Is There Is Such A Thing as a Superior Tote Bag? You Bet There Is.    What is simultaneously the hero of sustainable shopping and an ever-growing mountain of fabric from which we must be immediately rescued? If you're thinking, 'Duh, Tote Bags', then bingo! Ladies and Gentlemen, we have a winner! But let's not get too bogged down by the status quo. The picture isn't as bleak as it seems. It's really all about choosing the right tote bag. And if you need help settling on one, you've come to the right place. Let's break down the needs so...
---
• 2024 • A4 • A5 • diaries • diary • notebook • notebooks • notes
Pulp Has Pleasing And Beautiful 2024 Diaries You'll Actually Want to Use (please note the use of italics for emphasis.) Chums, I know it's relatively early to be yapping on about 2024 diaries, but time moves in mysterious ways. It can slither at a snail's pace across prosaic routines and travel down the highway of everyday life like a speed demon. Who knows what mood it'll be in when it wakes up?' So, while we're sitting pretty here on Friday the 13th, you can bet your bottom dollar that while you're avoiding black cats and prepping Halloween lolly bags, it'll...
---
• album • photo album • photo corners • semikolon • towel
So Put On Your Sunnies And Find The Ultimate Memory Collection Miscellany Here at Pulp.   That feeling when it's both brand new and old school. Retro and modern. For both Grandpa and Newborn. But what is it? It's the always-in-style photo album. When your iCloud storage story isn't giving a happy ending (i.e. "storage is full" energy), there are options. But first, in authentic Pulp Blog Style, cast aside your sun spectacles, pop into your cossie, slap on the sunscreen and let's bellyflop into the history of the photo album. The first splash is surprisingly nerdy… Wait, Are You Telling...
---
• ink • midori • notebooks • stamps • stickers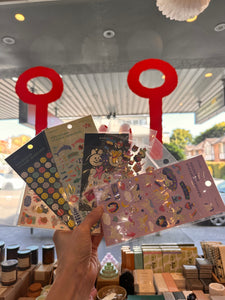 Good Tidings, Besties. Welcome to the next instalment of 'Behind the Stationary' with Pulp. In today's Blogisode, we look into an everyday, often overseen object: the sticker.  Hold on to your hats, kind folk; this narrative starts with the Ancient Egyptians. Again. The Powers That Be believe that the first stickers may date back to Ye Olde Egypt, as archaeologists have found remains of papers plastered to walls of ancient markets to display prices of goods. Mummified price tags - what next?  Well, ink stamps, that's what. They were used in the United Kingdom from 1661. It was invented by...