• notebook • notebooks • notes • password book
(And how you can be more creative when choosing/saving one. Spoiler Alert: Jump to Fun Fact #10. Pulp can help! Our Password Books will be your ROI -return on investment- forever more.) Now for the countdown!    1. People choose simple passwords.  Historically (and controversially in Japan, in 2022!), the most popular password was "123456"! It's giving "At the beginning of the Web" … Let's move on, people! 2. Nothing is immune from going viral (LOL). Even the nerdy concept of passwords.  "The Password Child" is a term that went viral in March 2023. It refers to using the name...
---
• birthday • cards • engagement • greeting cards • love • paper • scored cards • thank you • valentines day • wedding
I'm here to open the gates and set you free from this dizzying existential burden.   Let's line up the usual suspects: Birthday, Valentine's Day, Christmas, Engagement, Wedding. Thank You. All are worthy candidates. But how did it all begin? Before diving into this deep pool of inquiry, rest assured that our greeting cards here at Pulp will cover you for every season, reason, person, and animal.  Now, relax and reflect on two ancient civilisations: China and Egypt. The Chinese wanted to send goodwill to their family and friends on the arrival of the Lunar New Year. Legend has it...
---
• colour • colours • cups • drinkware • espresso cups • Robert Gordon
Yeah, you read me right: Zazz. With three Z's. Is it even an Oxford English Dictionary-sanctioned word? Who knows!? Not me, but it just about does a full vibe check for these colourful cups we have for you here at Pulp. Think of them as 'drip' (aka cool fashion) for your kitchen. If you don't know what I mean, GYAT !! (ahem, get your act together). Apologies for the overwhelming Gen Z lexicon; I was having a moment. The earliest known drinking vessels date back to the Upper Paleolithic age (50,000 years ago), known for  the emergence of more sophisticated...
---
• camping • coffee cups • cups • Dad • espresso cups • Father's Day • Gentlemen's Hardware • mug • Tactica • toolkit
Mmmhmm, Yup.  It's Dad Joke Season, AKA Father's Day. That's September 3rd for y'all who didn't know.  But before I launch into a full annotated list of cringe-worthy witticisms, let's take a closer look … The origins of this day to celebrate the big guy in your life actually come from a woman called Sonora Smart Dodd. Ms Dodd took inspo from the idea of Mother's Day.  In 1910, while hearing a church sermon about the newly coined Day For Mothers, she felt strongly that Fathers - and her Father in particular!- needed recognition. You see, her Dad was a...
---
• bags • brush pen • brush pens • bucket bag • Carry • hightide • nahe • notebook • notebooks • notes • packing cell • packing cells • packing cube • pencil cases • penco • pens • tarp bag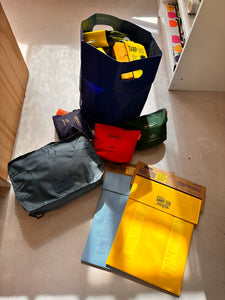 There  is generally a stigma attached to office work. Tedious, spiritually painful, long hours, and sometimes a long commute to a place you don't even want to be. The 90s cult movie 'Office Space' encapsulates this malaise perfectly -and with humour - which is probably the only way to look at the absurdity of some office jobs.   Penco turns this idea of boring office supplies on its head and even makes you  - well, me anyway - want to get down and do some serious admin. The products really are that beautiful. Their remit is "casual office supplies", an...